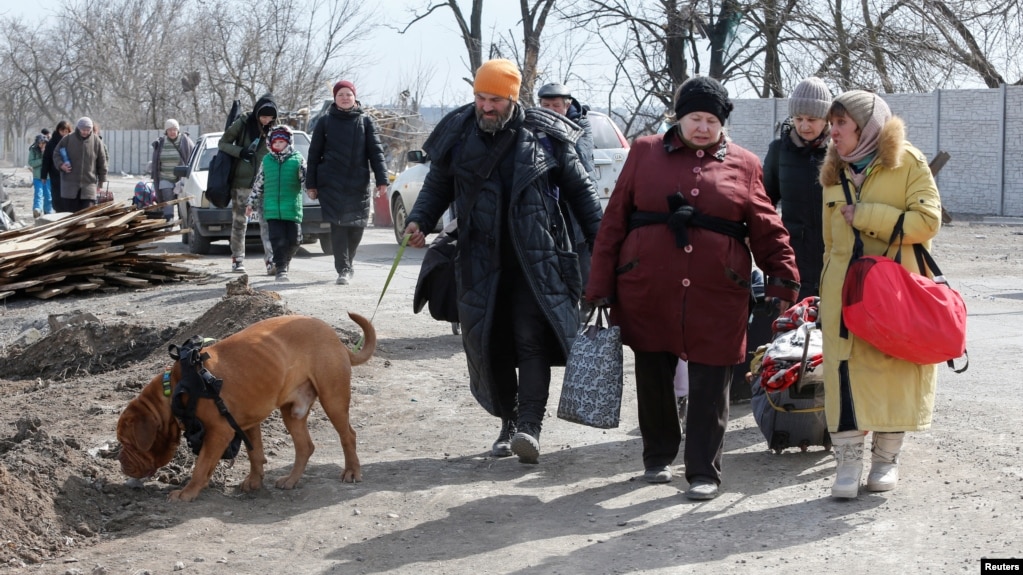 Ukraine has rejected a Russian demand to surrender the besieged city of Mariupol and raise white flags on March 21, saying there was "no question of any surrender," even as President Volodymyr Zelenskiy renewed his call for negotiations with his Russian counterpart, Vladimir Putin.
Deadly street fighting raged in Mariupol, a strategic southern port city, where a major evacuation is set for March 21, while Russian forces struck a shopping mall in Kyiv, killing several people.
Residents of Mariupol, which had a population of 400,000 before the war broke out, have for the past two weeks been trapped without basic supplies, such as water, food, and fuel.
Russia is seeking to take control of the city, which would allow it to link Crimea — which it seized in 2014 — with territory controlled by Kremlin-backed separatists in eastern Ukraine.
The Russian military had given Ukraine until 5 a.m. Moscow time on March 21 to surrender Mariupol, promising that in return it would offer two humanitarian corridors — one heading east toward Russia and the other west to other parts of Ukraine — for civilians to leave the city.
The Russian military did not say what would do if the offer was rejected.
Ukrainian Deputy Prime Minister Iryna Vereshchuk said early on March 21 that "there can be no question of any surrender, laying down of arms," after the Russian military late on March 20 demanded that the city be given up. "We have already informed the Russian side about this," Vereshchuk said.
Mariupol Mayor Piotr Andryushchenko also rejected the offer writing on Facebook that he didn't need to wait until the morning deadline to respond and cursing at the Russians, according to the news agency Interfax Ukraine