U.S. President Joe Biden has visited U.S. troops near the Polish border with Ukraine amid signals from Moscow that the Kremlin has scaled back its goals in its unprovoked attack on its neighbor to concentrate on capturing territory claimed by Russia-backed separatists.
Biden shook hands with dozens of soldiers during the surprise visit on March 25 to the city of Rzeszow, less than 100 miles from a military base in the western Ukrainian city of Yavoriv, which was ravaged by Russian air strikes on March 13.
Poland is hosting thousands of U.S. troops stationed there as part of a NATO battlegroup and has taken in more than 2 million Ukrainian refugees since Russia launched its invasion of Ukraine on February 24.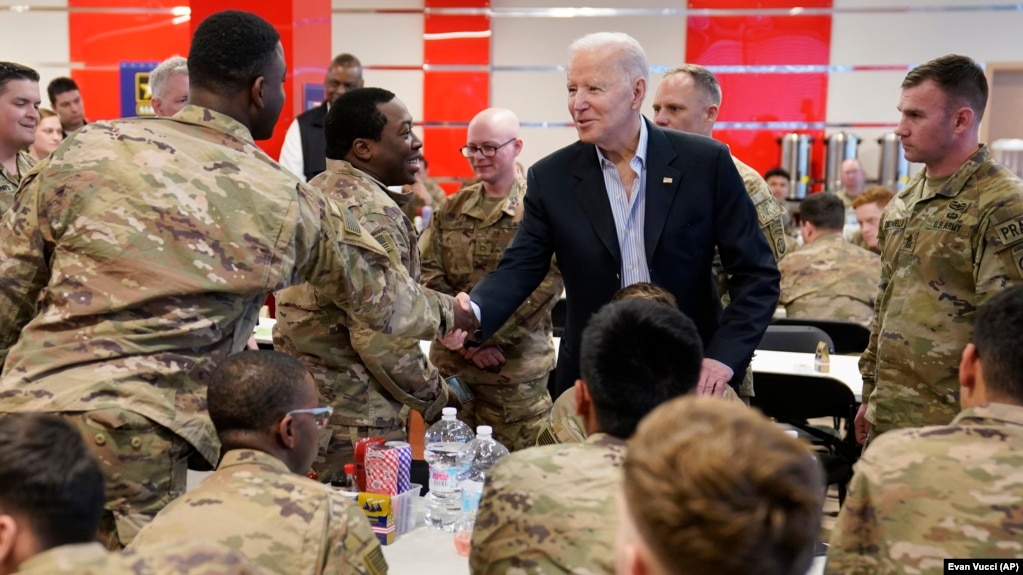 Biden arrived in Poland from Brussels, where he and European Commission President Ursula von der Leyen announced a deal under which the bloc will receive at least 15 billion cubic meters of American liquefied natural gas (LNG) this year amid efforts to wean itself off Russian gas imports.
The U.S. president, who announced a $1 billion aid package for Ukraine the previous day amid an unprecedented series of summits of NATO, EU, and the Group of Seven (G7), was scheduled to also hold talks with Polish leaders on energy and refugee issues.
Before his arrival, Biden said he hoped his visit would "reinforce my commitment to have the United States make sure we are a major piece of dealing with the relocation of all those folks, as well as humanitarian assistance needed both inside Ukraine and outside Ukraine."