The UN General Assembly has adopted a nonbinding resolution demanding the protection of civilians and civilian infrastructure in Ukraine and an immediate halt to the war.
The resolution, approved on March 24 at UN headquarters in New York, was favored by 140 countries in the 193-member assembly. Four countries — Syria, Belarus, North Korea, and Eritrea — joined Russia in voting against, while 38 countries abstained.
The resolution "demands an immediate cessation of the hostilities by the Russian Federation against Ukraine, in particular of any attacks against civilians and civilian objects."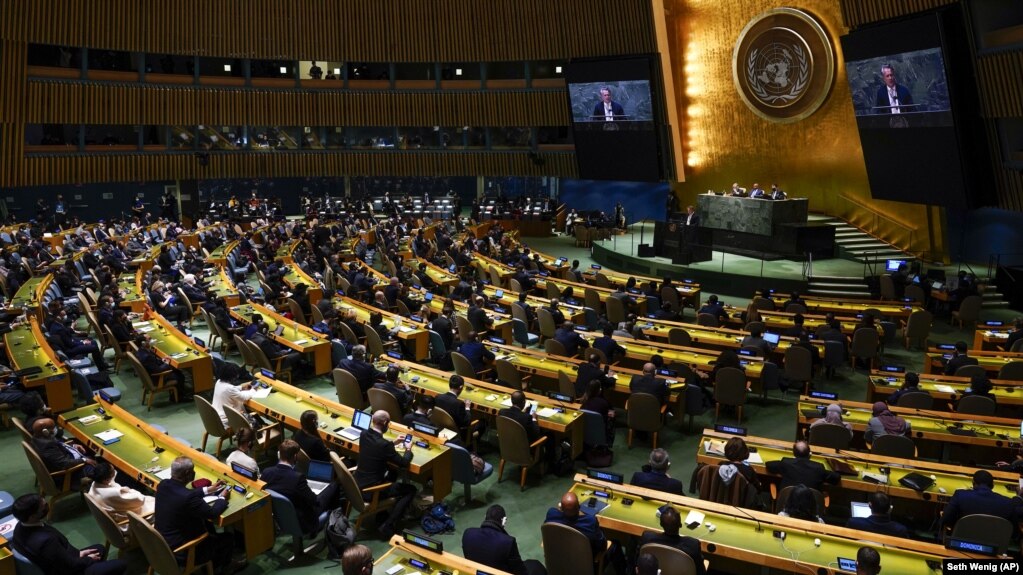 It also demands the protection of civilians, medical personnel, aid workers, and journalists.
A similar nonbinding resolution on March 2 demanded Russia immediately cease its use of force. That resolution was backed by 141 countries.
U.S. Ambassador to the UN Linda Thomas-Greenfield described the vote on March 24 as an "astounding success," telling reporters, "There's really no difference between 141 and 140."
She said the latest resolution built on the March 2 vote and appealed to "the one person with the ability to stop the violence. And that's Vladimir Putin."
The resolution criticizes Russia for creating a "dire" humanitarian situation after Moscow invaded its neighbor one month ago in what it calls a "special military operation" to destroy Ukraine's military infrastructure.
Ukraine and Western allies have accused Moscow of attacking civilians indiscriminately and targeting facilities such as hospitals and buildings used as shelters. Moscow denies attacking civilians.
Ukraine put forward the new resolution on March 23. The text was originally prepared by France and Mexico at an emergency session of the General Assembly.
A competing text by South Africa, which did not mention Russia by name, received only 50 votes and was therefore not adopted. Russia had appealed for countries to support that text, arguing that the resolution drafted by Ukraine and allies had been "politicized."