Russian invaders have launched mass deportation of the population from the temporarily occupied territories of Ukraine, which is in violation of Art. 49 of the Geneva Convention relative to the Protection of Civilian Persons in Time of War.
The Verkhovna Rada Commissioner Liudmyla Denisova addressed the issue in a statement via Telegram, Ukrinform reports.
"The occupiers' defense ministry reports that 90,000 citizens of Ukraine, Moldova, and Russia have already been deported from Kherson region. The Russcists name as grounds for relocation 'appeals of embassies and applications submitted to the military commandant's office of Kherson.' Over the past day alone, more than 19,600 civilians, including 3,300 children, were deported from the temporarily non-government-controlled territories of Ukraine in Donetsk and Luhansk regions. This was announced by the head of Russia's National Defense Management Center, Colonel-General Mikhail Mizintsev," Denisova reported.
According to the ombudsperson, in total, the Russian military claims the extraction of 439,420 civilians "from dangerous areas of Ukraine", of which 91,673 are children; from Mariupol, 98,081 people were relocated, including 183 people in the past 24 hours, "from the arbitrary actions of nationalists."
Denisova stressed that the scale of the forced relocation was comparable only to the deportation carried out by Hitler during World War 2.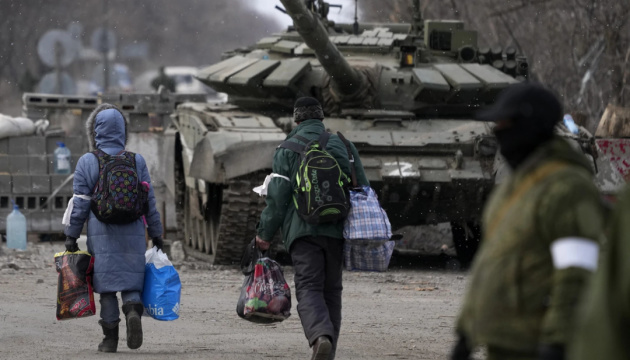 "I appeal to the International Committee of the Red Cross to take all possible measures to assist in the return of Ukrainians illegally deported to Russia and to open safe humanitarian corridors from the regions where active hostilities are ongoing. I call on the international community to put even more pressure on the occupying power to liberate the entire territory of Ukraine from the Russcist army," Denisova urged.
On March 27, Deputy Prime Minister, Minister for Reintegration of the Temporarily Occupied Territories Iryna Vereshchuk said about 40,000 Ukrainians, including thousands of children, had been forcibly deported to Russia.