The enemy focuses its efforts on fulfilling the task to reach the administrative borders of Donetsk and Luhansk regions.
"According to the operational information as of 18:00 on March 28, the Russian command is making every effort to keep the temporarily occupied territories of Ukraine under control," the General Staff of the Armed Forces of Ukraine posted on Facebook.
In order to make up for personnel losses, the military commissariats in the Russian Federation continue to recruit citizens to form so-called "volunteer" units, which will be involved to ensure a kind of occupation "order" in the captured territories. The main requirements for candidates are satisfactory health status. Military service experience is not required.
Despite statements by officials of the Ministry of Defense and the General Staff of the Russian Federation regarding changes in plans and priorities, the enemy continues to increase the number of troops around the capital. Russian troops continue unsuccessful attempts to take positions from which they could attack or encircle Kyiv.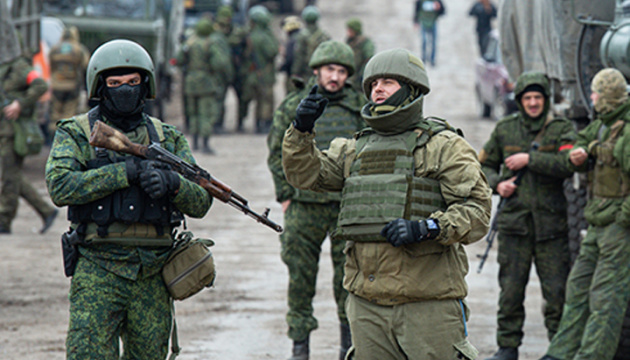 "The units of the Armed Forces of Ukraine continue to defend Mariupol. Defenders of the town by their actions restrain the development of the enemy's offensive in other directions. The invaders continue to suffer heavy losses," the General Staff said.
The temporarily captured city of Kherson resists the Russian occupation, and the enemy is forced to amass an increasing number of the Russian military and the Russian Guard members to keep the city under its control.
According to the General Staff, about 150 people from South Ossetia were redeployed to the temporarily occupied territory of the Autonomous Republic of Crimea for further actions in the neighboring regions of Ukraine. Measures to covertly mobilize the population of the so-called South Ossetia in order to further involve them in the war with Ukraine have also been recorded.
"Shifting the enterprises of the Russian defense and industrial complex involved in the production of missiles to round-the-clock operation testifies to a significant reduction in the arsenal of missile weapons. Given the international sanctions banning the supply of high-tech products to the Russian Federation, the import substitution process will have a long effect as there are no short-term prospects for domestic manufacturing of high-tech electronic equipment which is an important component of missile production.
It is noted that the Russian military leadership is trying to accumulate reserves and restore the combat capability of units that suffered losses during the first month of the war.
The units of the Armed Forces of Ukraine continue to conduct defensive operations and carry out successful counterattacks in some areas.
As reported, the total combat losses of the enemy from February 24 to March 28 were about 17,000 personnel, 586 tanks, 1,694 armored personnel vehicles, 302 artillery systems, 95 MLRS, 54 anti-aircraft warfare systems, 123 aircraft, 127 helicopters.