Russia has already lost more than $10 billion worth of military equipment in Ukraine.
The Ukrainian Defense Ministry said this in a statement released on Telegram, Vigilant reports.
"Due to the coordinated interaction of troops and forces, a large amount of Russian equipment is being destroyed. The enemy has already lost [military equipment] worth more than $10 billion," the statement said.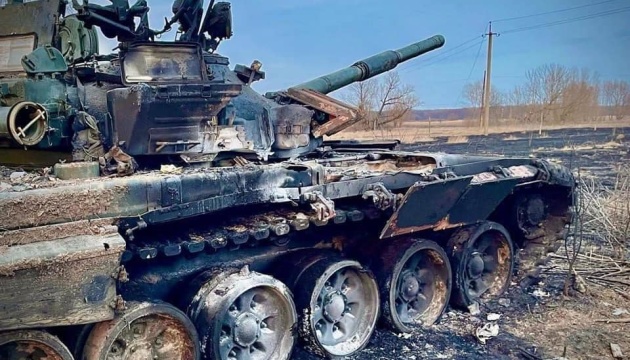 The seven most expensive pieces of military equipment that Russia lost in Ukraine include a T-90M tank worth up to $3 million, a Pantsir-S1 air-defense missile-gun system worth up to $15 million, a Ka-52 helicopter worth up to $16 million, an Il-76 military transport aircraft worth up to $27 million, a modern Su-35S fighter aircraft worth up to $65 million, an Iskander-M mobile short-range ballistic missile system worth up to $100 million, and the large landing ship Saratov worth more than $100 million.
Ukrinform reported earlier that from February 24 to April 1, Russia lost about 17,700 troops in Ukraine.
The enemy also lost 625 tanks, 1,751 armored fighting vehicles, 316 artillery systems, 96 multiple launch rocket systems, 54 air defense systems, 143 aircraft, 131 helicopters, 1,220 vehicles, and seven ships/boats.