BUCHA, Ukraine — Residents of this suburb of Kyiv told RFE/RL they managed to survive the "systematic" killing of the town's population by Russian troops that until recently occupied the area.
Images showing the bodies of dead civilians in Bucha, which Russian forces occupied in early March and left around April 1, have emerged in the last couple of days and have prompted international condemnation of Russia, including accusations of genocide and war crimes.
Several local residents told RFE/RL that what they saw after they emerged from their houses after Ukrainian forces recaptured the town was "horrific," with the bodies of dozens of civilians who had been shot dead lying in the streets.
One man said a Russian sniper deliberately killed several people in the area, including one of his relatives.
"A sniper started shooting in the area on March 5," the man said. "When we left our house before the curfew time that day, a sniper killed my son-in-law. After that, it all started. They were shooting at everyone who was out," the man said.
Another resident said he witnessed Russian soldiers killing three civilians by shooting them for no clear reason.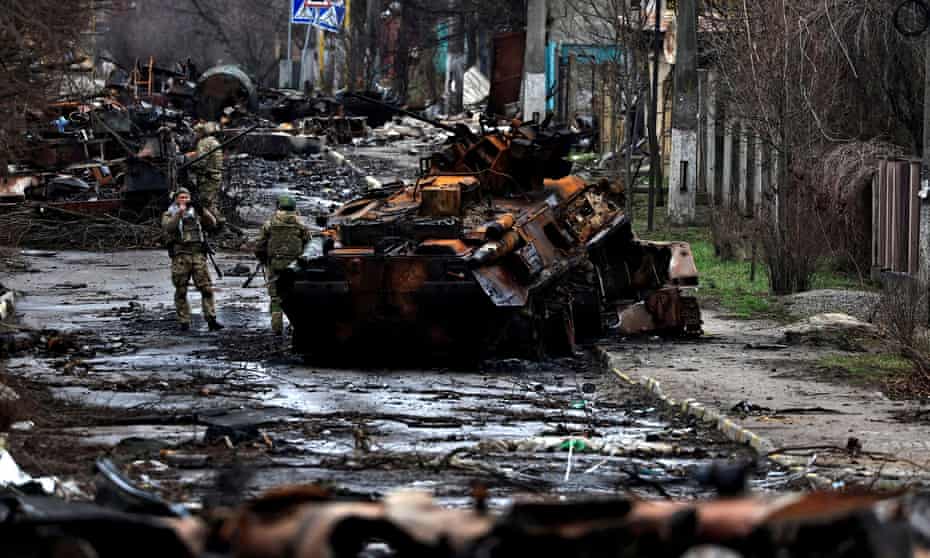 "After shooting one of them, they also threw a grenade on his body. We buried his parts later…. It was horrible," the man said, adding that his own brother was shot dead when he was walking to a bomb shelter on March 5.
"It was a system," the man said. "They were killing people systematically. I personally heard how one sniper was boasting that he 'offed' two people he saw in apartment windows…. There was no need. There was no military justification to kill. It was just torturing civilians. On other blocks, people were really tortured. They were found with their hands tied behind their backs and shot in the back of the head."
Bucha Mayor Anatoliy Fedoruk said on April 2 that about 300 locals had been killed during the Russian occupation of the town and that some 280 bodies had been discovered in a mass grave.
The Ukrainian Prosecutor-General's Office said on April 3 that prosecutors investigating possible war crimes by Russia have found 410 bodies in towns outside of Kyiv and that 140 of them had been examined.
Russia has denied allegations that its forces were involved in the killings, calling the reports a "provocation."