After the world saw the city of Bucha, liberated from Russian troops, there should not be any kind of hesitation and reluctance in the West to provide Ukraine with all necessary weapons and introduce tough sanctions against Russia.
The relevant statement was made by Ukrainian Foreign Affairs Minister Dmytro Kuleba in a commentary to BBC HARDtalk, an Ukrinform correspondent reports.
"The Bucha massacre should remove any kind of hesitation and reluctance in the West to provide Ukraine with all necessary weapons, including planes, tanks, multiple launch rocket systems and armored vehicles, to defend our country and to free it from Russian occupants. And the same goes for sanctions. If anyone of my colleagues from Europe or across the ocean tries to tell me that some sanctions are inappropriate or too tough and should not be imposed, I will consider it as a betrayal of the victims of Bucha and other towns and villages, civilians who had been killed," Kuleba told.
In his words, the Bucha massacre is a game changer in the way the West should continue supporting Ukraine.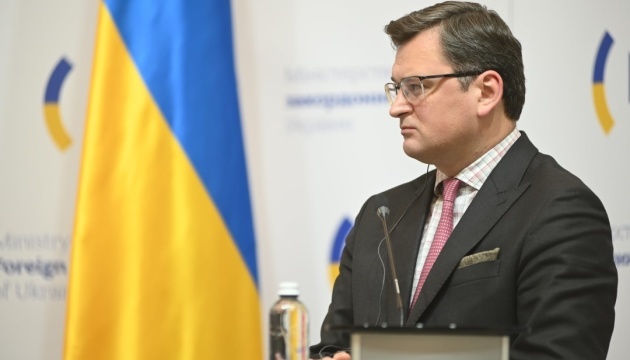 "I do appreciate everything that has been done by our partners, and some of them did more than they themselves could imagine before the war had started. I am grateful with all of my heart. But as the war goes on, and we realize that many more villages and towns of Ukraine in different parts of the country remained under the Russian force, and we don't know what is happening there, I do not accept any half measures. We are not asking for anything extraordinary. We are just asking to provide us with everything that we need to liberate our country, to prevent more Russian crimes and to save the lives of civilians," Kuleba noted.
A reminder that such settlements as Irpin, Bucha, Hostomel, and the entire Kyiv Region, were liberated from Russian invaders. The mass killings of civilians, committed by Russian troops, were recorded within the liberated areas. In Bucha, a mass grave with about 300 bodies was discovered. In addition, dozens of corpses were lying on streets; some victims had their hands tied.