Pope Francis has condemned what he described as the "massacre of Bucha," a Ukrainian town where the bodies of dozens of civilians were found in mass graves and on the streets in what some have called evidence of war crimes committed by Russian troops
Holding a battle-stained flag from Bucha, Pope Francis said during his weekly audience in the Vatican's auditorium on April 6 that "recent news from the war in Ukraine, instead of bringing relief and hope, brought new atrocities, such as the massacre of Bucha."
"Ever more horrendous cruelties, also perpetrated against defenseless civilians, women, and children. These are victims whose innocent blood cries out to heaven and begs for mercy," the pontiff said while welcoming a half-dozen Ukrainian refugee children on stage.

"These children had to flee in order to arrive in a safe land. This is the fruit of war. Let's not forget them and let's not forget the Ukrainian people," he said, before giving each child a gift of a chocolate Easter egg.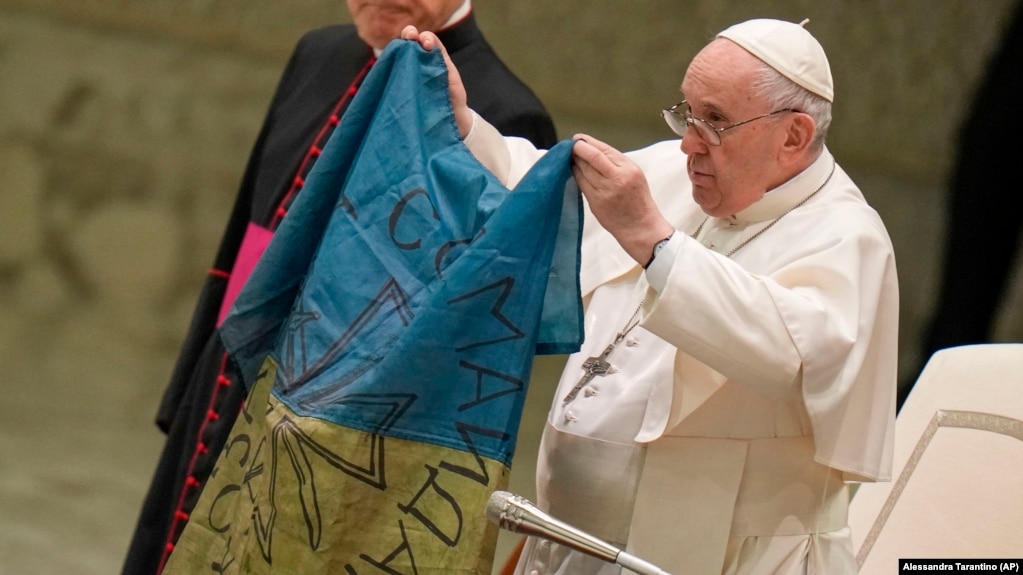 The Ukrainian Army retook control of Bucha just a few days ago after Russian forces retreated. Videos and eyewitness accounts have revealed dozens of corpses, some with their hands tied behind their backs, strewn about the town on the northwest outskirts of Kyiv.
Ukrainian President Volodymyr Zelenskiy has called the killings "war crimes" and "genocide." Western countries have ramped up sanctions against Russia, which has denied the accusations, in reaction to the deaths.
While Pope Francis did not name Russia in his speech, he did say that the events in Ukraine were showing "the impotency of the United Nations."