Russian President Vladimir Putin's two adult daughters are being hit with financial sanctions, the White House has said, as part of a new package of punitive measures for Russia's war in Ukraine, an unprecedented move by Western governments trying to pressure Moscow.
A senior U.S. administration official said on April 6 that the wife and daughter of Foreign Minister Sergei Lavrov were also being hit with financial sanctions.
More broadly, the banking giant Sberbank, which is Russia's largest financial institution, is being hit with full blocking sanctions, as well as the private Alfa Bank, whose main shareholders have long been considered close to Putin's inner circle.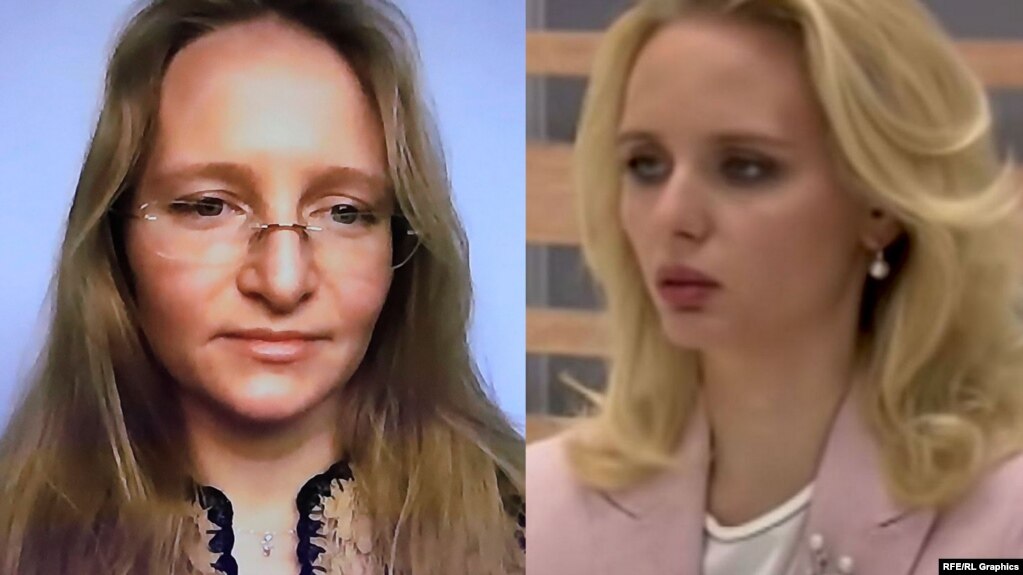 The European Union was expected to make a similar announcement on April 7.
Putin himself was hit with sanctions by the West for the first time ever on February 25, a day after Russian forces invaded Ukraine in what has turned into the largest military operation in Europe since World War II.
Other top officials, including politically connected businessmen known in Russia as oligarchs, have also been hit.
Aside from damaging Russia's economy, the sanctions have had little apparent effect on Russia's actions in Ukraine or elsewhere. That's prompted a growing chorus of lawmakers, activists, and others to call for harsher sanctions to target people even closer to Putin.
The two daughters Putin has with his now ex-wife, Lyudmila — Yekaterina Tikhonova and Maria Vorontsova — were kept out of public view for years.
Vorontsova, 37, who is believed to have a medical degree, is the co-owner of a health-care investment company aiming to build a new, state-of-the-art medical center near St. Petersburg.
She was married to a Dutch citizen, though it is unclear whether they are still together.
Tikhonova, 35, gained attention in the late 2010s when she began to perform as an acrobatic dancer and competitive rock-and-roll dancer.
She later became the director of Innopraktika, a $1.7 billion government-backed project to build a science and research center at Moscow State University.
Tikhonova was previously married to the son of a powerful, Kremlin-connected banker named Nikolai Shamalov. The couple reportedly divorced in 2018.
Last year, Tikhonova appeared in public speaking at the St. Petersburg International Economic Forum. She was not identified in press materials or on Russian media as being Putin's daughter.
Though he was seen regularly with Lyudmila when they were married, Putin has made few comments about his family over the years.
In 2017, during his annual televised call-in show, Putin said his daughters were "involved in science and education," and that they "lived normal, everyday lives."