The world has seen what the Russian military has done in Bucha, but there are many such cities in Ukraine.
"The massacre in our city of Bucha is just one, unfortunately, of many examples of what the occupiers have been doing on our land for 41 days. And there are many other such places that the world has yet to find out the full truth of: Mariupol, Kharkiv, Chernihiv, Okhtyrka, Borodyanka and dozens of other Ukrainian communities, each of which is like Bucha," President of Ukraine Volodymyr Zelensky said, speaking at the UN Security Council meeting dedicated to the massacres committed by the Russian army in Bucha, an Ukrinform correspondent reports from New York.
According to him, the Russian military searched for and purposefully killed anyone who served Ukraine, killed whole families – adults and children.
People were shot in the back of the head or in the eye after being tortured, shot just on the streets, thrown into the well, so that they die there in suffering, killed in apartments, houses, blown up by grenades, crushed by tanks in civilian cars in the middle of the road for fun, limbs were cut off, throats were cut, people were raped and killed in front of their own children, Zelensky stressed.
"This is done by a permanent member of the UN Security Council," he said.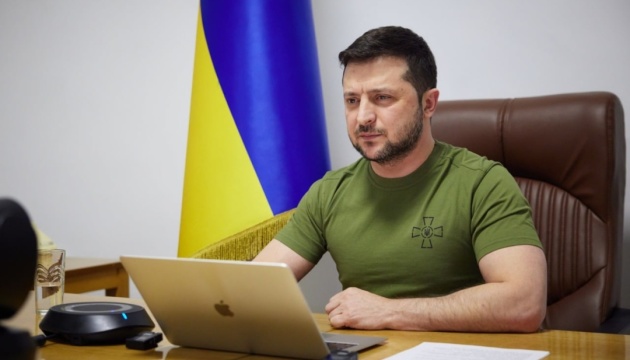 It is as a result of Russia's actions that the most heinous war crimes of all time since the end of World War II are being committed in Ukraine, the President noted.
"Russian troops are deliberately destroying Ukrainian cities to ashes with artillery and air strikes. They are deliberately blocking cities, creating mass starvation in them. They are deliberately shooting at columns of civilians on the roads who are trying to escape from the territory of hostilities. They are even deliberately blowing up shelters where civilians are hiding from air strikes. They are deliberately creating conditions in the temporarily occupied territories so that as many civilians as possible are killed there," Zelensky said.
Members of the UN Security Council were shown video footage of the atrocities committed by Russian troops in Bucha.
As reported, the United Kingdom, which holds the presidency of the UN Security Council in April, convened a meeting of the UN Security Council on April 5 to discuss the mass killings committed by the Russian armed forces in Bucha, Kyiv region, during the occupation.