French Foreign Minister Jean-Yves Le Drian says he has summoned Russia's ambassador to Paris over an "obscene" tweet that tried to portray the massacre in the Ukrainian town of Bucha as fake.
"Faced with the obscene and provocative communication from the Russian Embassy in France on the Bucha atrocities, I have decided to summon the Russian ambassador," France's top diplomat said in a tweet on April 7.
"We will continue to fight against all Russian manipulation of information about the war in Ukraine," he added.
Several European Union countries have ordered Russian diplomats out this week amid global outrage after news emerged of alleged atrocities committed by Russian forces against Ukrainian civilians in Bucha, northwest of the capital, Kyiv.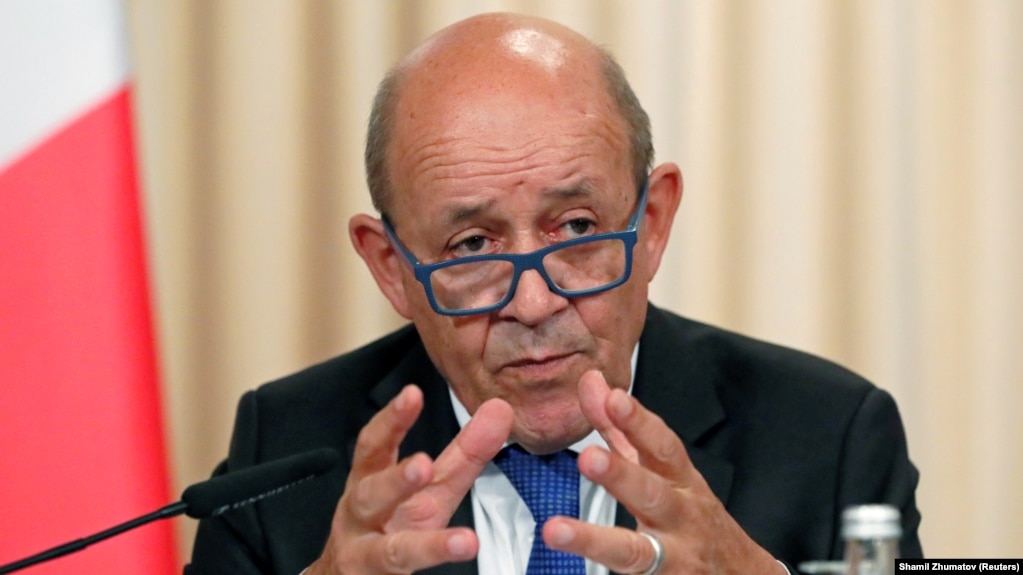 Journalists have seen the bodies of dozens of people, many of them shot at close range and some with their hands tied behind them, left on the streets of Bucha since Russian troops retreated last week.
Moscow has claimed the accusations are false and the embassy in Paris on April 6 posted a photo claiming to show bodies being placed in a street in Bucha with the caption: "Film set, town of Bucha."
The tweet was later deleted, but some responded to Le Drain's tweet by reposting the photo while decrying Russia's propaganda attempts.
The embassy also has a post from a man it claims is a former Ukrainian lawmaker who says the Bucha massacre was "staged."
U.S. President Joe Biden said on April 6 that the Justice Department's chief war crimes prosecutor was meeting his French counterpart to assist in a potential war crimes trial "to identify and hold accountable those responsible for atrocities in Ukraine."
It's also not the first time the Russian Embassy in Paris has been accused of improper tweets during the war, which Moscow launched on February 24.
On March 25, the ambassador was summoned to the French Foreign Ministry to protest "unacceptable" tweets issued by the embassy showing crude cartoons depicting Europe and the United States.