The Group of Seven (G7) leading industrialized countries has condemned "in the strongest terms" what it calls the "atrocities" committed by Russia in the town of Bucha and other areas of Ukraine.
"Haunting images of civilian deaths, victims of torture, and apparent executions, as well as reports of sexual violence and destruction of civilian infrastructure show the true face of Russia's brutal war of aggression against Ukraine and its people," foreign ministers from the G7 said in a joint statement on April 7.
"The massacres in the town of Bucha and other Ukrainian towns will be inscribed in the list of atrocities and severe violations of international law, including international humanitarian law and human rights, committed by the aggressor on Ukrainian soil," it added.
Grisly images emerged this week of dead civilians in the streets of Bucha, a town northeast of Kyiv that was recaptured from Russian invaders. Local officials say more than 300 people were killed by Russian forces in Bucha alone, and around 50 of them were executed. Moscow denies the accusations.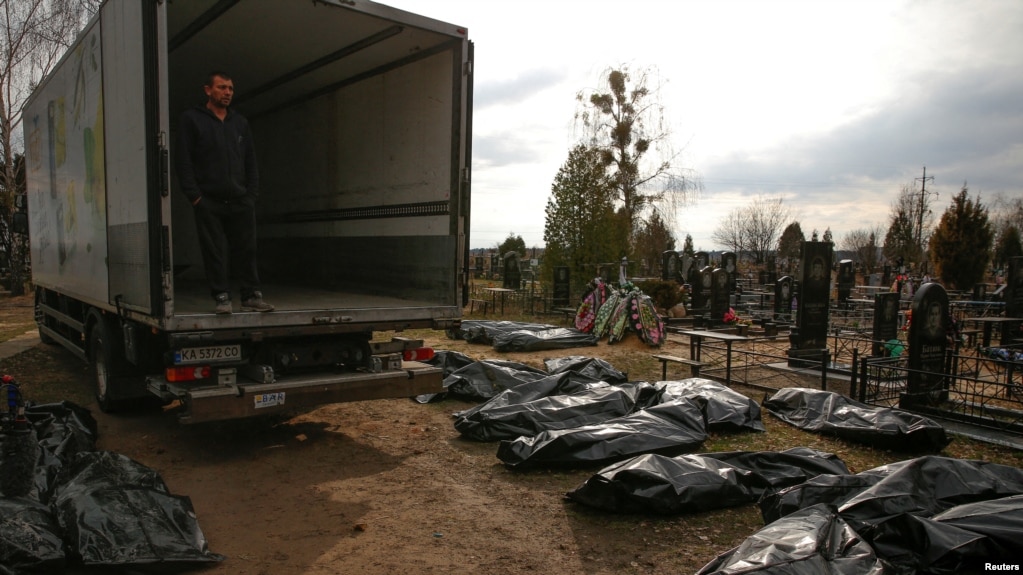 The G7, which comprises Canada, France, Germany, Italy, Japan, the United Kingdom, and the United States, said in the statement that it was ready to further assist Ukraine in defending itself from Moscow's unprovoked invasion "including with military equipment and financial means."

"We underscore that those responsible for these heinous acts and atrocities, including any attacks targeting civilians and destruction of civilian infrastructure, will be held accountable and prosecuted," the statement said.

"Together with international partners, the G7 will sustain and increase pressure on Russia by imposing coordinated additional restrictive measures to effectively thwart Russian abilities to continue the aggression against Ukraine," it added.
In Moscow, Prime Minister Mikhail Mishustin said on April 7 that Russia is facing its most difficult situation in three decades due to unprecedented Western sanctions, but foreign attempts to isolate it from the global economy will fail.