German intelligence has reportedly intercepted messages by Russian troops discussing murders in the Ukrainian town. Citing the report, and other atrocities, two German ex-ministers are seeking a Russian war crimes probe.
Ukrainian authorities are working to identify hundreds of bodies they say were found in Bucha and other towns
The German foreign intelligence agency BND intercepted radio messages from Russian military sources discussing the murders of civilians in the Ukrainian town of Bucha, German news magazine Der Spiegel reported on Thursday.
According to local officials, more than 300 people were killed by Russian forces in Bucha, including 50 who were executed.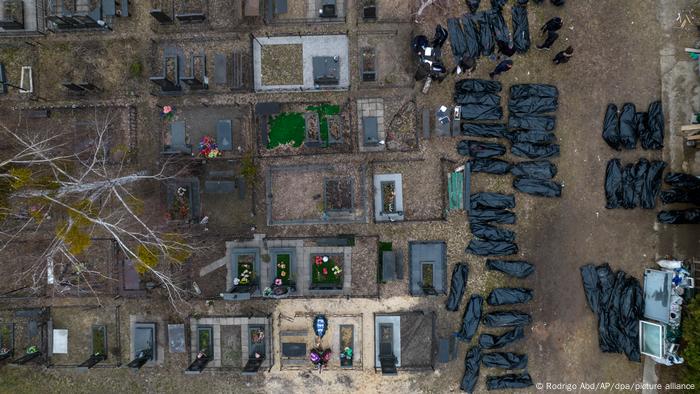 Russia has denied committing atrocities in Bucha, claiming without evidence that they were "staged" by Ukraine. Several groups have rebutted the Russian claims.
What did the report say?
The BND findings are believed to include radio transmissions that match the locations of bodies found along the main road, according to the magazine's report.
The BND presented its findings in parliament on Wednesday, Der Spiegel reported, without giving a source for the information.
Reuters news agency reported, citing an unnamed security source, that the German government has "indications" that Russia was involved in killing civilians in Bucha.
On Wednesday, German government spokesman Steffen Hebestreit said an analysis of noncommercial satellite images showed victims in Bucha had been lying on a road since at least March 10.
"Credible evidence shows that Russian armed and security forces were deployed in the area from March 7 up to and including March 30. They were also engaged in interrogation of prisoners who were subsequently executed. These are the findings we have," Hebestreit said.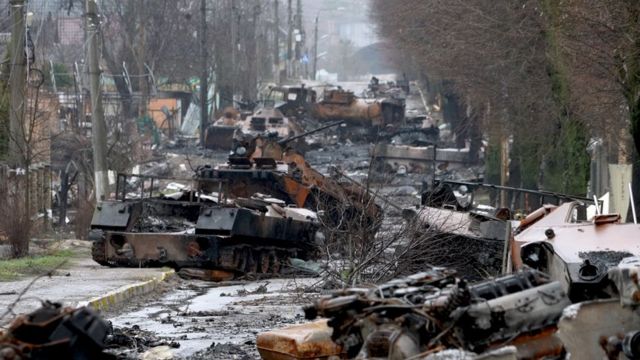 "The statements made by the Russian side that these were staged scenes and that they were not responsible for the killings, are thus not tenable in our view."
German former ministers seeking war crimes probe
German former Justice Minister Sabine Leutheusser-Schnarrenberger and former Interior Minister Gerhart Baum on Thursday filed a 140-page criminal complaint with German prosecutors over Russia's invasion of Ukraine.
The two former ministers are seeking the opening of a war crimes probe against Russian officials, including President Vladimir Putin, as well as "a whole series of members of the Russian military," according to their lawyer.