Russia's war against Ukraine is entering a critical phase, and NATO allies are ready to provide Kyiv with all necessary assistance to counter another possible offensive of the invaders.
"We are now in a critical phase of the war. We see that Russia is moving forces out of the north to reinforce them, to resupply them, to rearm them and then to move them into the east where we are expecting a major offensive. President Putin's aim is to try to control the whole of Donbas and to establish a land bridge [to Crimea]. We have seen no indication that President Putin has changed his ambition to control the whole of Ukraine and also to rewrite the international order," he said.
Stoltenberg noted that Ukrainian Minister of Foreign Affairs of Ukraine Dmytro Kuleba will take part in the NATO ministerial meeting, and this will be a good opportunity to get information about the situation in Ukraine and the needs of the Armed Forces.
"We will be joined by Foreign Minister Kuleba from Ukraine, and I think it's important that we have this opportunity to engage directly with him. To discuss with him to listen, to hear Minister Kuleba and also to discuss the way forward together. We'll also be joined by other partners, the Foreign Minister of Georgia, Finland, Sweden, the European Union, and also by our partners from the Asia Pacific, Australia, New Zealand, Japan, and South Korea. And these are all highly valued partners," he said.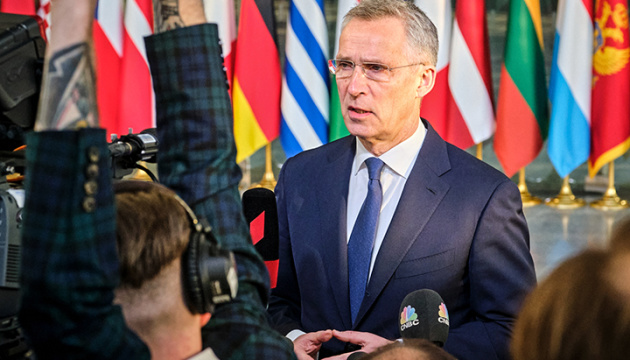 According to the NATO secretary general, tonight, Foreign Ministers will discuss NATO's New Strategic Concept which will address the new security reality, including the security consequences of Russia's aggressive actions, of the shifting global balance of power, the security consequences of a much stronger China, and the challenges Russia and China are posing together to our rules based international order and our democratic values.
Stoltenberg stressed that the mass killings of civilians in Bucha and other Ukrainian cities, occupied by Russian invaders, revealed the true nature of Putin's war.
"We have all seen the atrocities that have been committed in Bucha and other places in Ukraine. This reveals the true nature of President Putin's war, and the targeting and killing of civilians is a war crime and therefore, NATO allies are supporting the international efforts to establish all the facts, to investigate, and to make sure that perpetrators are punished," he said.