KYIV — British Prime Minister Boris Johnson has arrived in Kyiv to meet with Ukrainian President Volodymyr Zelenskiy in what Downing Street calls a "show of solidarity" as fears grow of a possible new Russian offensive in the east of Ukraine.
Johnson's office said on April 9 that the prime minister was meeting Zelenskiy "in a show of solidarity with the Ukrainian people" and that "they will discuss the U.K.'s long-term support to Ukraine and the PM will set out a new package of financial and military aid."
Johnson's unannounced trip to Ukraine is the most high-profile visit in a recent series of arrivals by European officials and leaders following the retreat of Russian forces from the region around the capital.
Also on April 9, Austrian Chancellor Karl Nehammer met with Zelenskiy in Kyiv, while the day before, European Commission President Ursula von der Leyen and EU foreign policy chief Josep Borrell arrived in the Ukrainian capital.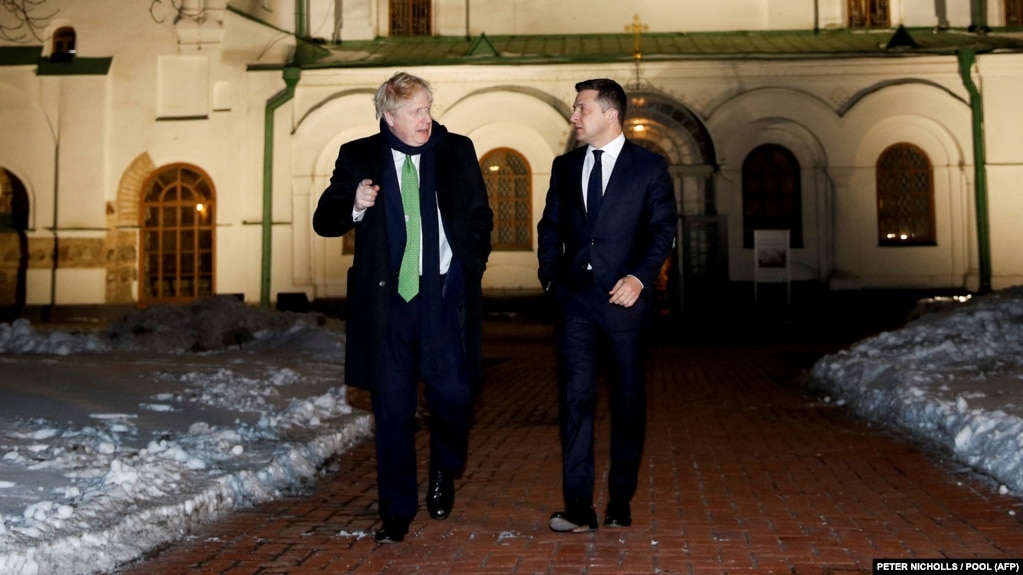 Andriy Sybiha, an aide to the Ukrainian president, posted a photograph on Facebook of the two leaders sitting with each other, with Johnson wearing a dark suit and Zelenskiy in his traditional khaki overalls.
"Boris Johnson's visit to Kyiv began with a tete-a-tete meeting with President Zelenskiy," Sybiha wrote.
"Great Britain is a leader in defense support for Ukraine. Leader in the anti-war coalition. The leader in sanctions against the Russian aggressor."
Johnson has taken a hard line against Russia since its February 24 unprovoked invasion of Ukraine and after reports of potential war crimes in deadly attacks on civilians by Moscow's forces.
Russian forces have faced stronger-than-expected resistance from Ukrainian forces and civilians, forcing them to pull back from the Kyiv region.
Experts say that Moscow is planning to focus its attack on the eastern and southern regions of Ukraine, where Russia or Kremlin-backed forces have held Ukrainian territory since 2014.
On April 9, the governor of the Luhansk region, Serhiy Hayday, said more people needed to be evacuated from the eastern region, as shelling has increased in recent days and more Russian forces have been arriving.