The war in Ukraine is a test of whether the European Parliament can show courage and leadership and act as a strong defender of democracy, the legislature's president, Roberta Metsola, has told RFE/RL's Georgian Service.
In the wide-ranging interview on April 7, Metsola challenged the European Union to step up now and do more for Ukraine, which for years has looked to the West and aspired to join democratic institutions.
"We need to make a choice. We are either going to save Ukraine or turn our backs and if we turn our back to Ukraine, that means we turned our backs to a country that looked up to us as the democratic leader, as a global political power stands for freedom around the world," Metsola said.
Metsola, a Maltese politician who has been president of the European Parliament since January, said it was clear that after her recent visit to Kyiv, the country doesn't just need more military equipment, it needs weapons that its troops already know how to use to ensure they are quickly put to use.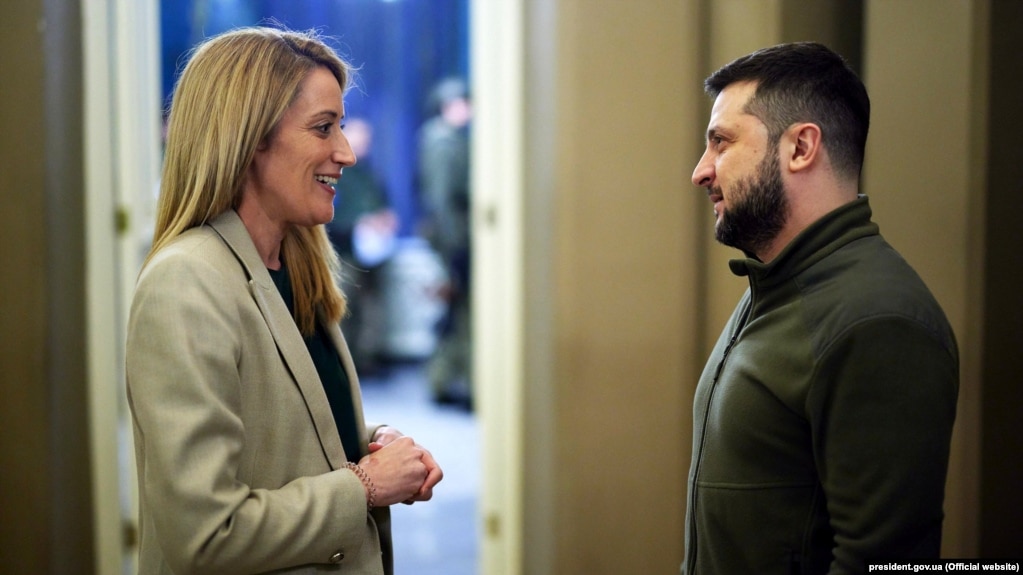 Europe's response, she added, should be increased in ways such as how the Czech Republic on April 5 sent T-72 tanks and BVP-1 infantry fighting vehicles to Ukraine.
The amount the EU has pledged thus far — 1.2 billion euros ($1.4 billion) in financial assistance — was unprecedented, she said, but "Ukraine needs to survive. We need to help, make sure that Ukraine wins this war because otherwise all of Europe would fail."
The current level of political will was also unprecedented, she said, noting there was "huge public opinion" behind it that allows the EU to go further than it's gone before, not just on defense spending but also on energy policy.
She called for stronger embargoes on more energy sources from Russia, with the ultimate aim of zero energy dependence on the Kremlin because "we need to buy our energy from our friends and not from our foes."
While she understands that there are different realities in different countries as prices rise, the EU is going into an uncertain period in terms of supply and food shortages. She said the turbulence meant leadership will become even more valuable.
"This is where political will has to be at the forefront of all decisions that are taken, be a political, economic, financial, whatever is needed," she said.
"We need to make a choice — we are either going to save Ukraine or turn our backs. And this is where I think we as a European Parliament and I president should be at the forefront — fighting for the first option."