German Chancellor Olaf Scholz defended Germany against criticism that it is dragging its feet on ending Russian energy imports, saying Berlin is "actively working" to free itself from importing Russian gas.
"We are doing all we can and we are doing a lot," Scholz said in London on April 8, pointing to Germany's long-term diversification to alternative energy and its move to other suppliers for natural gas.
Germany has been under pressure to do more to reduce Russian energy imports, particularly since evidence of what Ukraine and many Western government have said shows that war crimes were committed by Russian forces as they withdrew from towns around Kyiv.
"We are actively working to get independent from the import of [Russian] oil and we think that we will be able to make it during this year," Scholz said during a news conference with British Prime Minister Boris Johnson.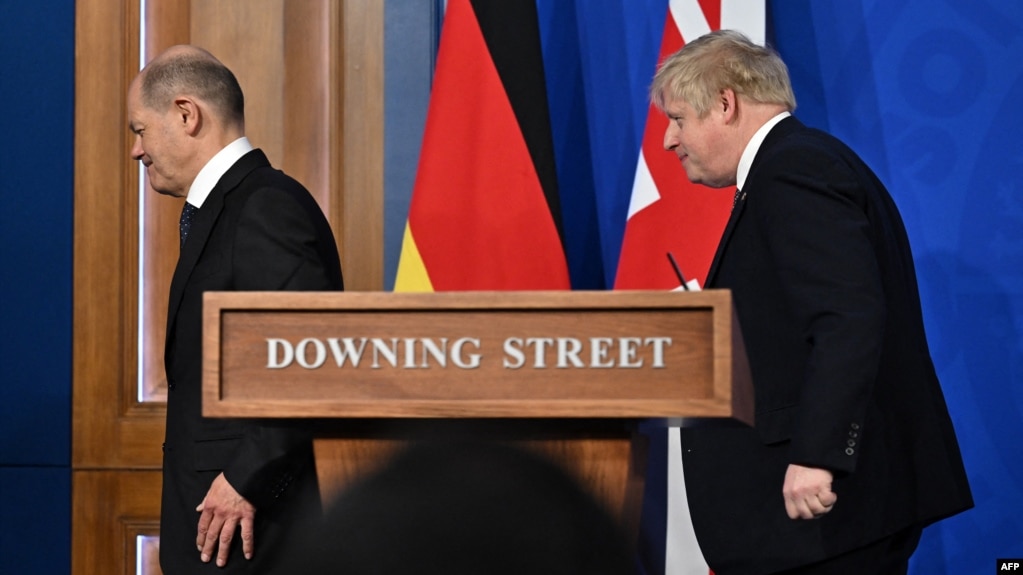 Russian oil now accounts for 25 percent of German imports, down from 35 percent before the invasion, and gas imports have been cut to 40 percent from 55 percent before the invasion. Russian hard coal imports are down to 25 percent from 50 percent before the invasion.
However, the goal to cut the share of Russian natural gas imports to 24 percent by this summer could take until the summer of 2024, Scholz said.
"This is, as you may imagine, not that easy because it needs infrastructure that has to be built first. So pipelines to the northern shore of Germany, regasification ports that make it possible for example that LNG ships could give their supply to the gas grid in Germany," he said, using the acronym for liquefied natural gas.
Johnson told reporters that Britain is sending Ukraine more anti-aircraft missiles and 800 anti-tank missiles worth 100 million pounds ($130 million).
The two leaders also commented on an attack on a train station in Kramatorsk that killed at least 50 people, including five children, according to Ukrainian officials.
The attack "shows the depths to which [Russian President Vladimir] Putin's once-vaunted army has sunk," he said alongside Scholz, who called the Russian strike "atrocious."
Johnson also said Britain and Germany would work together on renewable technologies.
"We cannot transform our energy systems overnight, but we also know that Putin's war will not end overnight," the prime minister said.