European Commission President Ursula von der Leyen has told Ukraine the European Union is by its side and will continue to support Kyiv by making Russian President Vladimir Putin pay a "heavy price" for his war.
Von der Leyen on April 8 became the first European leader to visit Bucha, where earlier this week evidence of possible war crimes was found in the wake of a retreat by Russian troops who had controlled the Kyiv suburb for several weeks after Moscow launched its unprovoked invasion on February 24.
After touring the area, where dozens of bodies were found strewn about the streets, some with their hands tied behind their backs, along with mass graves, and the destruction of much of the town's infrastructure, von der Leyen lit candles in a church for the victims.
"It was important to start my visit in Bucha. Because in Bucha our humanity was shattered," she said in a tweet. "My message to Ukrainian people: Those responsible for the atrocities will be brought to justice. Your fight is our fight."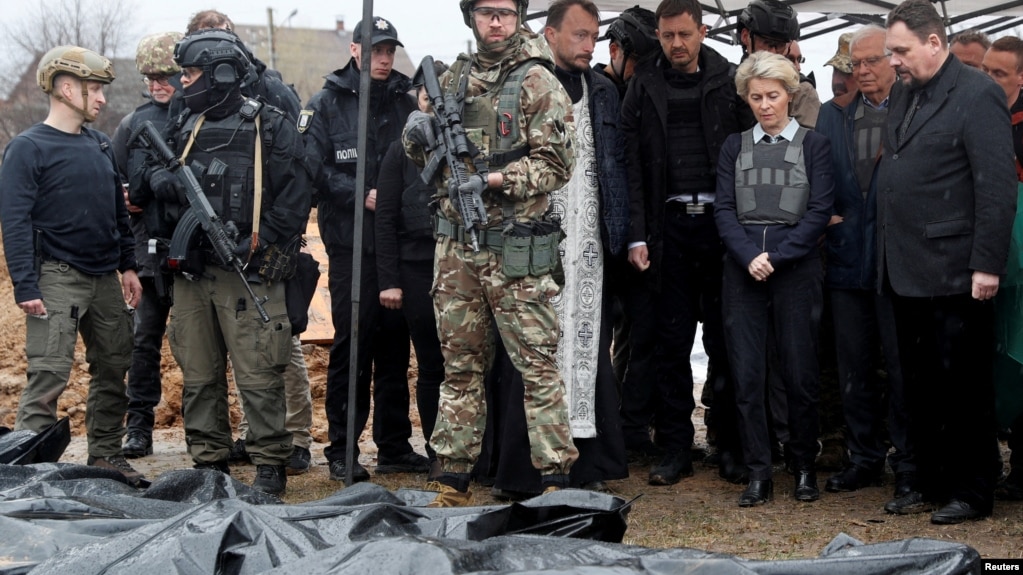 Afterward, she held a briefing with Ukrainian President Volodymyr Zelenskiy in which she pledged to speed up Kyiv's bid to join the EU, handing him a questionnaire to launch the process.

"It will not as usual be a matter of years to form this opinion [on membership], but I think a matter of weeks," she said, pledging to keep up the economic and diplomatic pressure on Moscow.

"Russia will descend into economic, financial, and technological decay, while Ukraine is marching towards the European future. This is what I see," von der Leyen said.
Russia has denied it committed any atrocities in Bucha.