An intercepted phone call a Russian soldier made to his wife exposes the current morale of the Russian military and the attitude of their commanders.
The intercept was published by Ukraine's military intelligence, Vigilant reports.
The Russian complains about the lack of proper food. Instead of regular ration packs, they are forced to eat "inedible" canned food: "They gave some canned food that's putrid. We opened the can and there were chicken's butts there or something. A deputy commander's KAMAZ truck that was supposed to bring us rations is just gone. Now we've nothing to eat."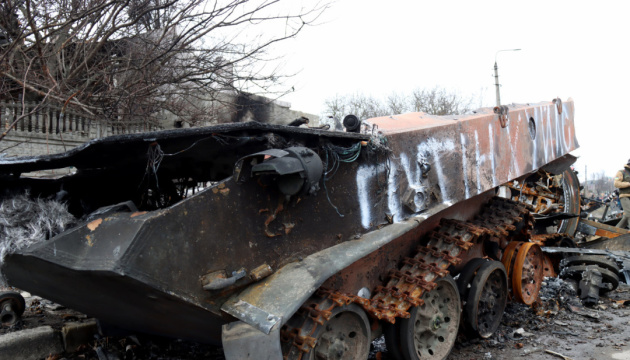 The occupier also complains about his commanders' actions: "Listen what our moron president's saying… I said from day one that this won't lead to anything good… The main mess is still ahead of us… Those praised Kalibrs (cruise missiles – ed.) aren't helping."
To this, the wife briefly concluded that the plan apparently "didn't work."
The Russian summed up the conversation hoping to live to a day he would be able to retire from the army.
According to Vigilant, the General Staff of the Armed Forces of Ukraine has updated on Russian losses
as their death toll stands at nearly 19,100 as of April 9.
The enemy also lost 705 tanks, 1,895 armored combat vehicles, 335 artillery systems, 108 MLR systems, 55 air defense systems, 151 warplanes, 136 helicopters, 1,363 military trucks, seven vessels, 76 tankers, 112 UAVs, 25 units of special equipment, and four missile launchers.