KYIV — Ukrainian President Volodymyr Zelenskiy says his country is "still ready" to continue negotiations with Russia but that Ukraine is "ready to fight" if necessary amid reported deadly attacks on civilians by Moscow's forces.
Zelenskiy made the comments in Kyiv on April 9 during a joint news conference with Austrian Chancellor Karl Nehammer, the latest in the line of European officials and leaders who have visited the war-torn country since Russian forces retreated from around the capital.
"Ukraine has always said it is ready for negotiations and looking for any way to stop this war," Zelenskiy said.
"Sadly, in parallel, we see the preparations for important battles — some people say decisive ones — in the east," he said, referring to expectations of new Russian military offensives in eastern and southern areas of Ukraine.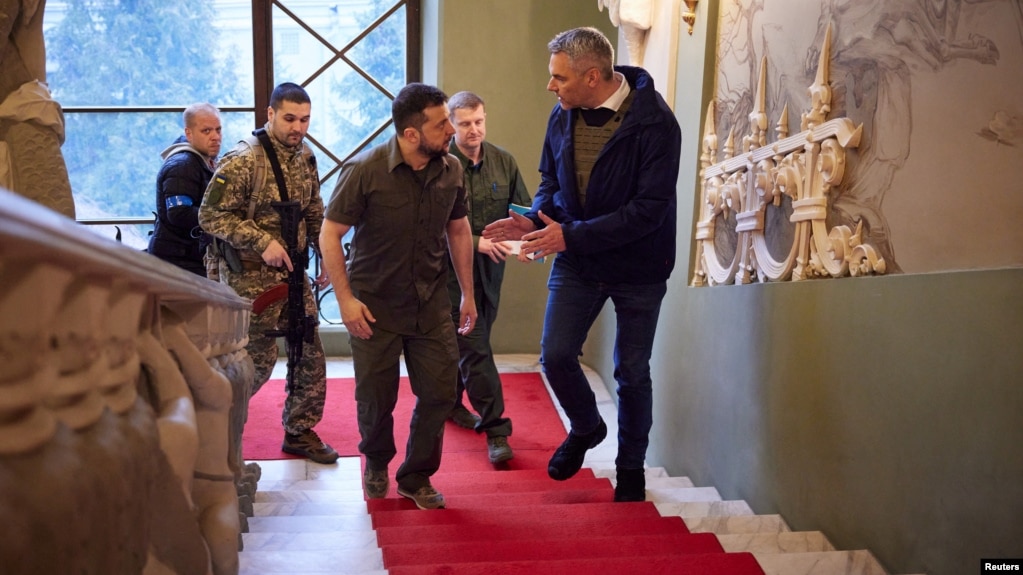 "We are ready to fight and to look in parallel to end this war through diplomacy," he added.
"In the east and in the south, we have seen a concentration of arms, equipment, and troops who are getting ready to occupy another part of our territory," Zelenskiy said.
Nehammer on April 9 visited the town of Bucha, outside of Kyiv, where hundreds of civilians were found dead after the withdrawal of Russian forces. Many were found lying in the street, their hands tied behind their back.
"Austria supports us in resisting Russian aggression. The visit to Kyiv of Federal Chancellor Karl Negammer is an important manifestation of solidarity with the Ukrainian people," Zelenskiy wrote on his Telegram channel.
Ukrainian and Russian negotiators last met for talks on March 29.