President of Poland Andrzej Duda, President of Estonia Alar Karis, President of Lithuania Gitanas Nausėda, and President of Latvia Egils Levits have visited the towns destroyed by Russian troops in Kyiv region.
This is stated on Twitter and Facebook accounts of the Office of the President of Poland, Ukrinform reports.
As noted, after visiting the destroyed towns near Kyiv, in particular Borodianka, the delegation of four presidents will meet in Kyiv with President of Ukraine Volodymyr Zelensky and Ukrainian officials.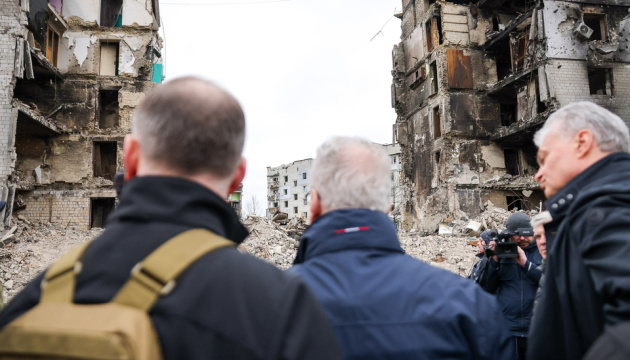 As reported, in his address to the Parliament of Estonia, President of Ukraine Volodymyr Zelensky stressed that such visits to the Ukrainian capital are especially important today as they show that all European defenders of freedom will continue to stand united in the struggle without any political or economic "bows" to the Russian Federation.
On February 24, Russia started a new phase of the war against Ukraine. The enemy massively fires on and bombs peaceful Ukrainian cities and towns. The whole people of Ukraine rose up to fight the invaders. The Armed Forces and the Territorial Defense Forces stopped the enemy's offensive and inflict heavy losses on Russian troops.