Russia's Defense Ministry said more than 1,000 Ukrainian marines have surrendered to Russian forces in the besieged port of Mariupol, but Ukrainian officials said they could not comment or confirm the claim.
If verified, the surrender would be a major blow to Ukrainian efforts to hold Mariupol, which has been the site of brutal, street-to-street fighting since Russia launched its unprovoked invasion of Ukraine on February 24.

"In the city of Mariupol…1,026 Ukrainian servicemen of the 36th Marine Brigade voluntarily laid down their arms and surrendered," the Russian Defense Ministry said in a statement on April 13.

Russian state news television channel Rossiya-24 showed video of soldiers marching with their hands up that it said were Ukrainian marines who had surrendered. Similar video footage was circulating on the social media accounts of pro-Kremlin bloggers.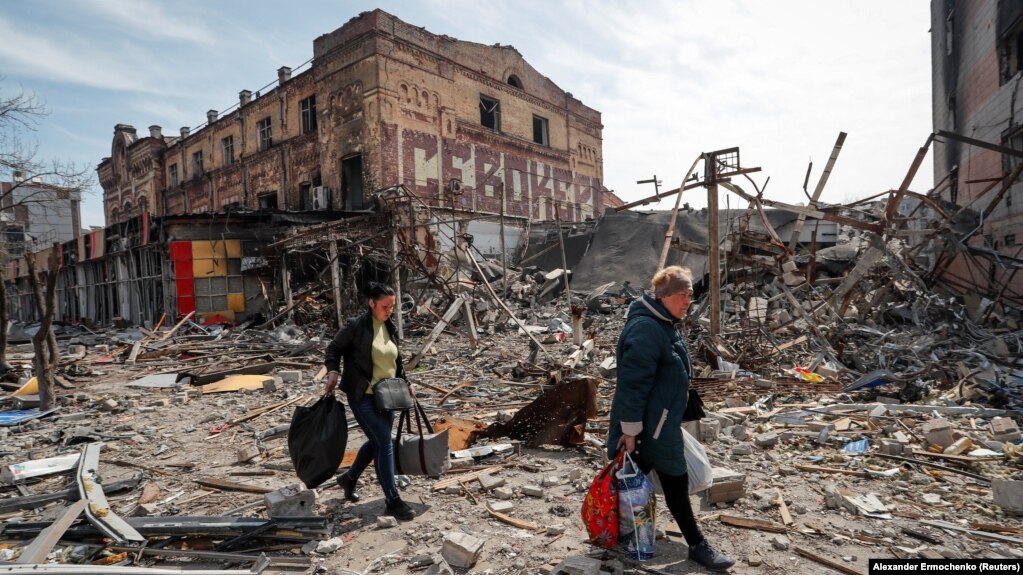 The office of Ukrainian President Volodymy Zelenskiy did not immediately respond to queries seeking comment, nor did the Ukrainian Defense Ministry. Reuters quoted a ministry spokesman as saying he had no information on whether the reports were true.

Vadym Denysenko, an aide to the Ukrainian interior minister, rejected the Russian claim, telling Current Time that it hadn't been confirmed by the Ukrainian military.

Oleksei Arestovych, another aide to Zelenskiy, posted acontradictory statement on Facebook, claiming instead that the 36th Marine Brigade had broken fighting lines and had joined units from the Azov Battalion, another military unit that has been battling to defend the city.

The Russian Defense Ministry said the surrender occurred at the Illiych Iron and Steel Works and that 151 wounded troops were treated on the spot and taken to Mariupol's city hospital.

Earlier on April 13, Ramzan Kadyrov, the Chechen strongman whose soldiers have been at the vanguard of the Russian assault on Mariupol, also said that more than 1,000 Ukrainian marines had surrendered in the city.