Experts with the Organization for Security and Cooperation in Europe (OSCE) say they found "clear patterns" of violations of international humanitarian law by Russian forces in Ukraine.
The initial findings of their report, released on April 13, document a "catalog of inhumanity perpetrated by Russia's forces in Ukraine," Michael Carpenter, the U.S. ambassador to the OSCE, said in a statement.
"This includes evidence of direct targeting of civilians, attacks on medical facilities, rape, executions, looting, and forced deportation of civilians to Russia," he said.
The report was written by three lawyers from Austria, Switzerland, and the Czech Republic after they were selected by the 45-member OSCE to study the situation.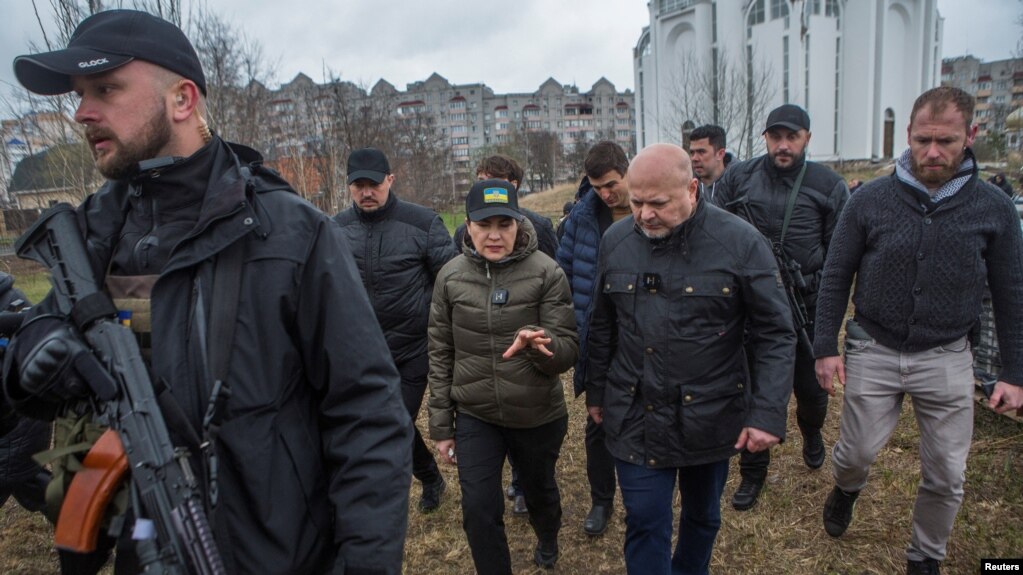 According to the report, Russian units at a minimum violated their duties to protect civilians. Otherwise, the casualty figures would be lower and far fewer homes, hospitals, and schools would have been destroyed, it said.
The experts found "some violations and problems" in Ukrainian practices, voicing concern about the treatment of prisoners of war.
Russia has denied claims of atrocities, referring to some of the evidence as fabricated.
The report said Russia responded by saying it considered the mechanism under which the experts were appointed "largely outdated and redundant" and declined to appoint a liaison person, referring the OSCE experts to official government statements and briefings.
The Kremlin weighed in again on April 13 in response to a statement by U.S. President Joe Biden accusing Russian President Vladimir Putin of genocide in the face of atrocities in Ukraine.
"We consider attempts to twist the situation in this way unacceptable," spokesman Dmitry Peskov said, according to Interfax. "Even more, as we have already said, it is hardly acceptable for the president of the United States of America."
Biden's comments came days after images of the bodies of civilians strewn in the streets of the Ukrainian town of Bucha on the outskirts of Kyiv caused shock around the world. Other towns have since reported similar findings after the withdrawal of Russian troops.