Two British fighters captured in Ukraine by Russian forces appeared on Russian state TV on April 18 and asked Britain to negotiate their exchange for a pro-Kremlin Ukrainian oligarch and politician who is being held by Ukrainian authorities.
It's not clear how freely the two men — Shaun Pinner, 48, and Aiden Aslin, 28 — were able to talk.
Speaking separately, the two men asked British Prime Minister Boris Johnson to help bring them home in exchange for Ukraine releasing Viktor Medvedchuk, the former leader of a pro-Russian opposition party with personal ties to Russian President Vladimir Putin.
Moments later, Ukraine's security services posted a video of Medvedchuk, 67, asking to be exchanged for Ukrainian civilians and soldiers trapped in the besieged city of Mariupol.
It was unclear how freely Medvedchuk was speaking in the video.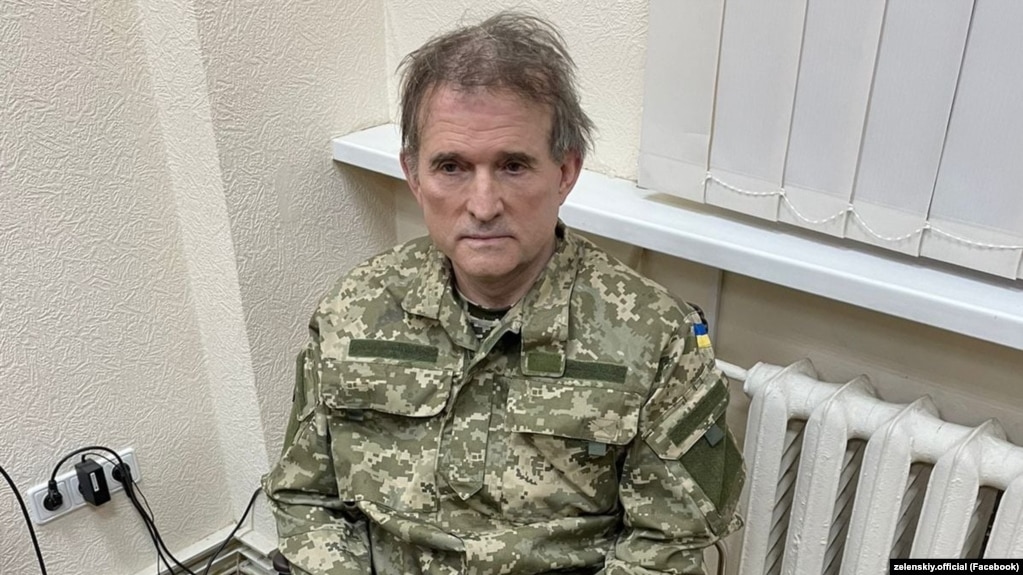 Medvedchuk was detained last week in a special operation carried out by Ukraine's state security service. Medvedchuk had escaped from house arrest several days before Russia attacked Ukraine on February 24.
He is facing between 15 years and a life sentence on a treason charge. Ukrainian officials have said Kyiv wants to try Medvedchuk and ultimately exchange him for Ukrainian prisoners.
Both Pinner and Aslin fought on the Ukrainian side in Mariupol, which is now almost entirely under Russian control.
Pinner's family called on Russian authorities to treat the two men as prisoners of war in accordance with international rules.
"Our family is currently working with the [British] Foreign Office along with the family of Aiden Aslin, who is also being held by the Russian Army, to ensure their rights as prisoners of war are upheld according to the Geneva Convention," the family said in a statement.