Russian forces are said to have been mostly stymied overnight as Ukrainian counterattacks continue in the eight-week-old invasion, and Kyiv's appeals for increased foreign assistance gained urgency following suggestions of broader war aims by Moscow.
British military intelligence said early on April 23 that Russian invasion forces appeared to have made no major gains in the past 24 hours.
The U.K. intelligence also said Russian air and naval forces still had not established control of Ukraine's skies or seas in the face of fierce Ukrainian resistance.
In a video address late on April 22, Ukrainian President Volodymyr Zelenskiy thanked countries that have delivered weapons to help Ukraine's defense and said its armed forces continued to deter attacks in eastern and southern Ukraine.
Ukraine's General Staff has said Russian forces increased attacks along the entirety of the front line in the east.
"The Izyum direction, Donbas, Azov, Mariupol, Kherson region are the places where the fate of this war and the future of our state is being decided now," Zelenskiy said.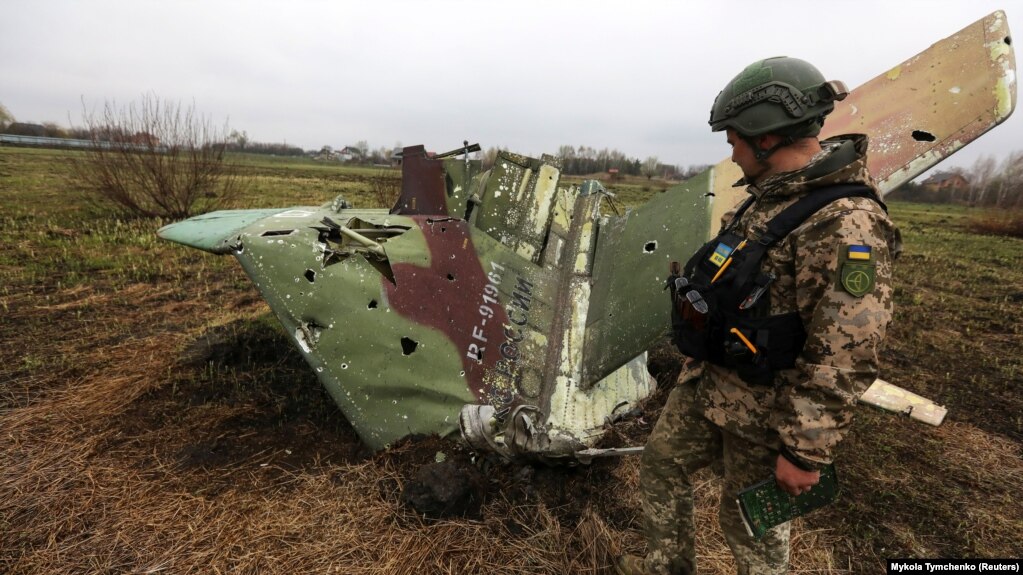 He also intensified warnings of Russian President Vladimir Putin's alleged territorial aims elsewhere in the region in addition to its freshly stated goals of wresting away and occupying eastern and southern Ukraine.
The acting commander of Russia's Central Military District, Rustam Minnekayev, was quoted by official state media on April 22 as saying that full control of southern Ukraine was a strategic goal to allow access to Moldova's pro-Russian breakaway region of Transdniester.