Hundreds of people from Latvia's Russian-speaking community participated in a protest in the streets of the capital, Riga, against Russia's unprovoked war against Ukraine.
Protesters on April 23 waved Ukrainian flags and posters with slogans such as "Stop the genocide in Ukraine" and "Complete Russian gas and oil embargo," according to Latvian public broadcaster LSM.
Organizers of The Russian Voice Against War rally said the event was designed to demonstrate that Russian-speaking people in Latvia do not identify with Russian President Vladimir Putin's government and that they respect the sovereignty and culture of other countries.
Organizers posted photos and videos of the protest on the event's Facebook page.
Ethnic Russians make up around 25 percent of Latvia's population of 1.9 million.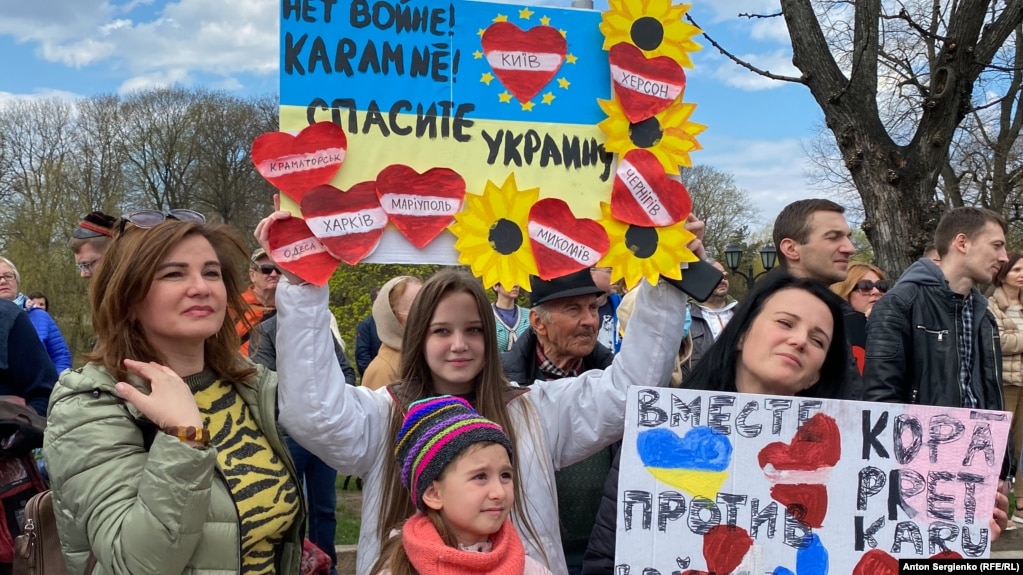 On April 21, the Saeima, Latvia's parliament, "unanimously adopted a statement on the aggression and war crimes of the Russian Federation in Ukraine, expressing solidarity with Ukraine and the Ukrainian people."
"The Saeima acknowledges that the Russian Federation is currently committing genocide against the people of Ukraine," the statement said.
Prime Minister Krisjanis Karins on April 22 said it was necessary to weaken Russia's ability to finance its war in Ukraine and pressed for further European Union sanctions on all Russian banks and all energy resources.
After meeting with his Baltic counterparts, Karins tweeted that "Latvia, Lithuania, and Estonia are united in stepping up support to Ukraine and determined to stop using of Russian gas."
Fellow Baltic states Estonia and Lithuania — all former Soviet republics and European Union and NATO members — have taken hard lines against Russia's invasion of Ukraine, which began on February 24.