U.S. President Joe Biden will request $33 billion from Congress to support Ukraine, a move that represents a dramatic escalation of U.S. funding for the country in its war against Russia.
Biden said the spending is necessary "to support Ukraine in its fight for freedom." Biden said.
"We need this bill…. We have to do this," he said, speaking to reporters at the White House. "The cost of this fight — it's not cheap — but caving to aggression is going to be more costly."
The request includes over $20 billion for weapons, ammunition, and other military assistance, as well as $8.5 billion in direct economic assistance to the government and $3 billion in humanitarian and food security aid.
The amount represents what U.S. officials expect Ukraine will need through September.
Biden said much of the military equipment the United States announced in the last two weeks, including drones, radar systems, ammunition, and howitzers, has already arrived in Ukraine. He said there are now 10 anti-armor systems in Ukraine for every Russian tank in the country.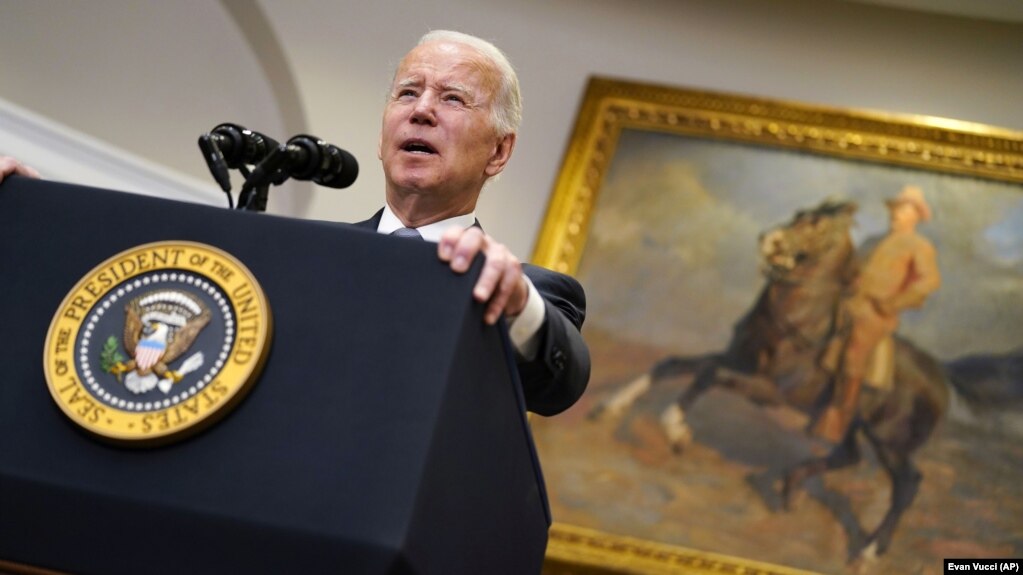 Russia has told the West to stop sending arms to Ukraine, saying large Western deliveries of weapons were inflaming the conflict.
"If someone intends to intervene in the ongoing events from the outside, and create strategic threats for Russia that are unacceptable to us, they should know that our retaliatory strikes will be lightning fast," Russian President Vladimir Putin told lawmakers in St. Petersburg on April 27.
Biden is also seeking legal tools that would allow the United States to sell assets seized from Russian oligarchs — from yachts and helicopters to real estate and art — to help pay for the war effort.
The United States and its European allies have frozen $30 billion of assets held by wealthy individuals with ties to Russian President Vladimir Putin.
Biden also commented on the decision this week by Russian state energy giant Gazprom to cut off gas supplies to Poland and Bulgaria. He called it an example of Russia attempting to use energy as a weapon and vowed that the United States will not let Russia use "gas blackmail" to pressure European allies and to undermine sanctions.
"We will not let Russia intimidate or blackmail their way out of these sanctions. We will not allow them to use their oil and gas to avoid consequences for their aggression," Biden said.