Ukrainian troops are holding out on the eastern front, says President Volodymyr Zelenskyy. Meanwhile, the Kremlin said Russia's nuclear deterrence forces had launched test missiles. DW has the latest.

Ukrainian President Volodymyr Zelenskyy said in an evening video address on Wednesday that Ukrainian forces had been holding out against Russian attacks, especially in parts of Donbas.
"The situation on the front line hasn't changed significantly," he said. "The fiercest battles are in the Donetsk region, towards [the cities of] Bakhmut and Avdiyivka".
He added that Russian forces have continuously attempted to capture the key city of Bakhmut, but to no avail.
"This is where the craziness of the Russian command is most evident. Day after day, for months, they are driving people to their deaths there, concentrating the highest level of artillery strikes," the president said.
As for the rest of the front line, Zelenskyy did not give details, but said that "we are strengthening our positions all over the frontline, reducing the invaders' capabilities, destroying their logistics, and preparing good news for Ukraine."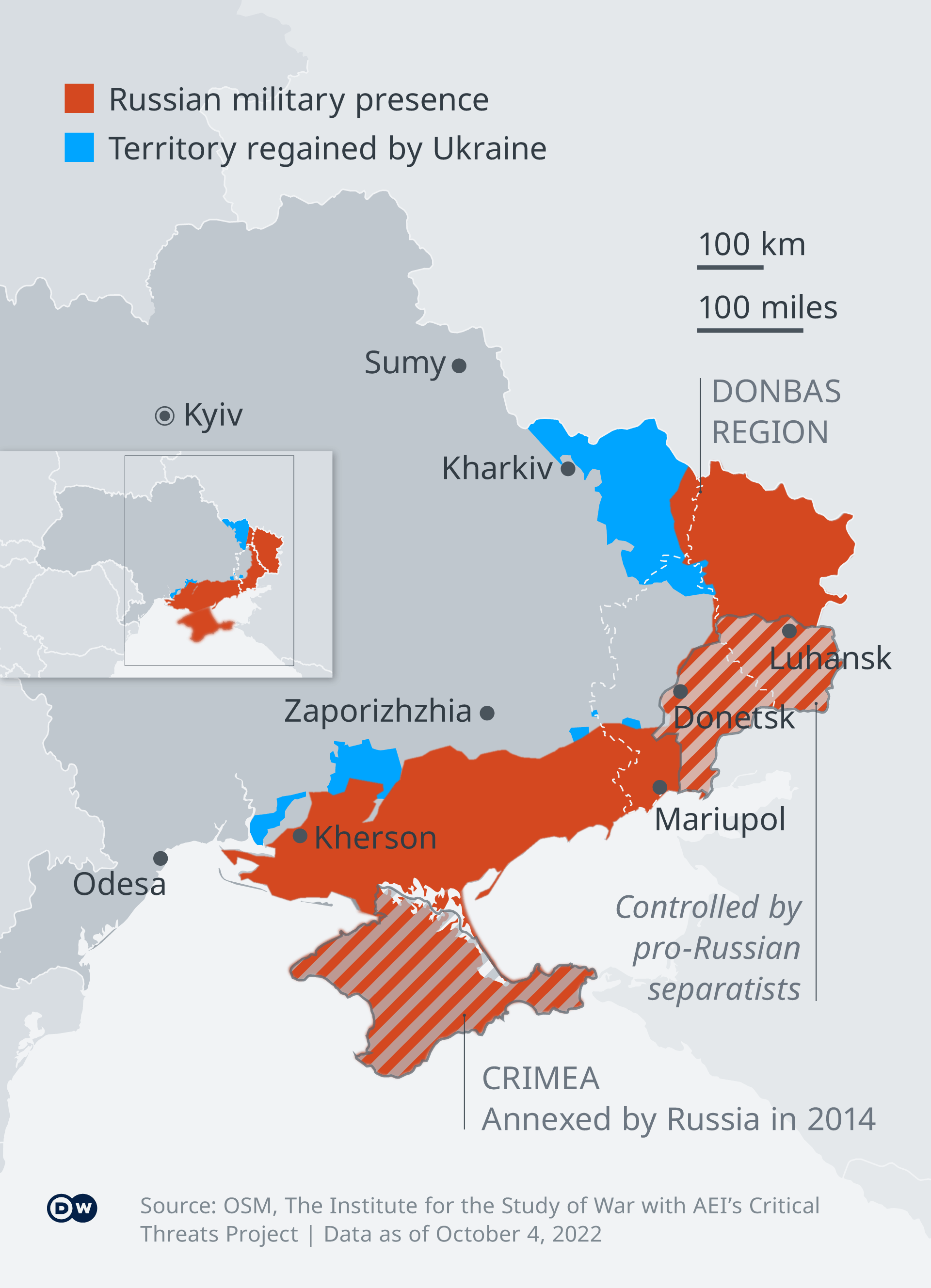 Here are the other main headlines from the war in Ukraine on Wednesday, October 26:
Putin oversees nuclear deterrence drills
Russian President Vladimir Putin oversaw the training of Moscow's strategic deterrence forces, the Kremlin said on Wednesday.
"Under the leadership of… Vladimir Putin, a training session was held with ground, sea and air strategic deterrence forces, during which practical launches of ballistic and cruise missiles took place," a Kremlin statement said.
The drills included launching test missiles from the eastern Kamchatka peninsula and from the Barents Sea in the Arctic.
The strategic forces are tasked with responding to nuclear threats. Moscow and Kyiv have accused each other of preparing to use a "dirty bomb" containing nuclear material, and Russian officials have on multiple occasions reminded the West of Moscow's nuclear arsenal in response to Western support for Ukraine.
Early last week, NATO carried out its own nuclear deterrence drills in Belgium, the UK and the North Sea. The alliance said the exercises were a "routine, recurring training activity" and weren't "linked to any current world events."