Freight volumes through some of Russia's largest ports have cratered as a result of the European Union's economic sanctions against Moscow.
This year, the port of St. Petersburg — Russia's primary gateway for trade with Europe — experienced an 85% drop in container throughput versus the previous year, according to Vincent Stamer, a researcher at the Kiel Institute for the World Economy.
"There are barely any containers arriving at Russia's formerly busiest port," Stamer said in an interview. "That's because St. Petersburg is so exposed to European trade."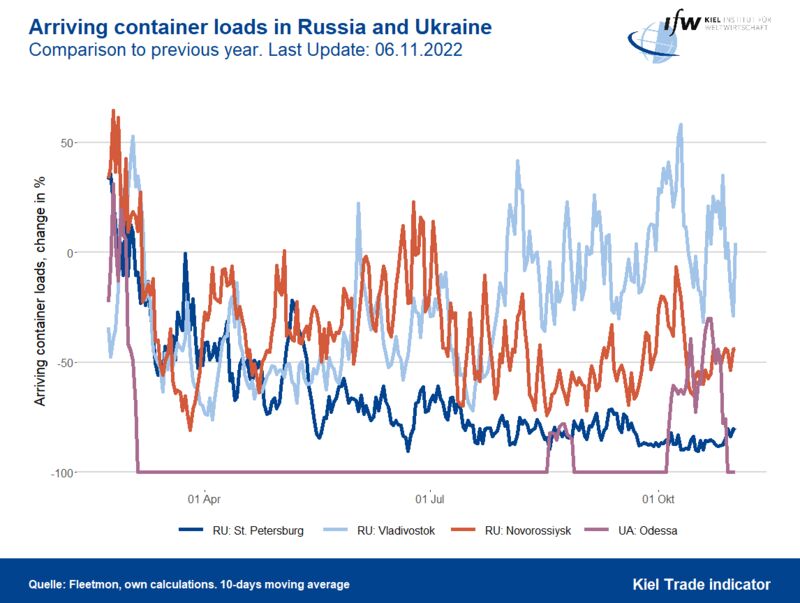 The German economic think tank's latest trade indicator shows that Russia imported 24% fewer goods per month than in 2021, leaving a monthly import gap of about $4.5 billion.
Read also: Analysis of the situation on Southern front and the role of ATACMS for Armed forces of Ukraine by military analyst Tatarigami_UA
The collapse is comparable to the drop in trade that many nations experienced during April 2020, when the Covid-19 pandemic forced governments to lock down their economies.
"Losing a quarter of a nation's imports is pretty substantial," Stamer said. "Imagine having that kind of drop in imports every single month."

Shifting to China
As a result, trade lanes are being redrawn, and China has overtaken the EU as Russia's most important trading partner. Still, Chinese exports to Russia remain insufficient to replace the fall in commerce with the EU.
This summer, the EU exported 43% fewer goods to Russia versus the same period a year ago. In comparison, China exported 23% more goods to Russia this summer versus 2021, according to the Kiel report.
Meanwhile, two of Russia's largest ports — Novorossiysk on the Black Sea and Vladivostok in the east — experienced declines in inbound cargo since Russia invaded Ukraine, though loads through Vladivostok are hovering closer to normal recently, according to Kiel's report.
Stamer said China's ability to ship more goods to Russia was initially hindered by the voluntary suspension of Russian shipping services by the big European ocean carriers — Hapag-Lloyd, Maersk and MSC.
"It's difficult to determine how large that effect is now," added Stamer. "Any obstacles in the shipping network won't prevent China from exporting more to Russia."
Trains Through Siberia
With limited options via seaborne cargo, Russia is seeing trains provide another option to keep trade flowing. particularly through its far eastern regions.
According to the latest weekly report from New Silk Road Intermodal, a freight operator between China and Europe, rail lines to Russia "are still hot, but compared with last week, the tension has eased."
The transit time between China and Russia using sea and rail transport tops 40 days, and congestion in Vladivostok "has not improved significantly," the company said in the report posted Monday on LinkedIn.