Historic strike on Russian airfields. The Russian forces' offensive in the Donetsk region stopped. In some places was replaced by a counteroffensive of the Ukrainian Armed Forces. In Zaporizhzhia and Luhansk regions, our military gained success, especially in a historic strike on three airfields far in Russia
Russia, 160 km from Moscow
On December 5-6, Ukrainian drones hit three strategic airfields in Russian territory. In Engels near Saratov, 650 km from our positions at the front, 2 Tu-95MS strategic bombers were damaged, preparing to strike Ukrainian cities on this day. In the Ryazan region, 160 km from Moscow, by explosions in the hangar and near the runway, 2 Tu-95MS aircraft were damaged, 6 soldiers were killed, and 11 more were injured. The results of drone strikes on Kursk airfield are unknown, but the fire could not be extinguished within 8 hours. In Bryansk, a drone destroyed fuel tanks at the Slava plant.
The Ukrainian Armed Forces' attack on strategic Russian airfields where nuclear warheads can be stored has dealt a powerful blow to the entire enemy's air defense system, which is still recovering and does not know how to respond to such actions in the future.
In addition, drones partially disrupted another large-scale missile launch at Ukrainian cities. This time there were more than 70, and our air defense system could cope with them better and shoot down more than 60 missiles. At the same time, several missiles reached their targets in Odesa, Mykolaiv, Vinnytsia, Kyiv, Dnipropetrovsk and Zaporizhzhia. Most missiles were shot down over Kyiv, Poltava and Kharkiv regions, and one – over Moldova.
Southern Front, Zaporizhzhia
The unexpected offensive of five Moskow battalion tactical groups on Vuhledar not only choked by the loss of more than half of the Russian soldiers, but it also turned into a partial retreat from its positions in Pavlivka, which Russia recently completely occupied. Therefore, the gray area in the village is now expanding, which is not controlled by any of the armies.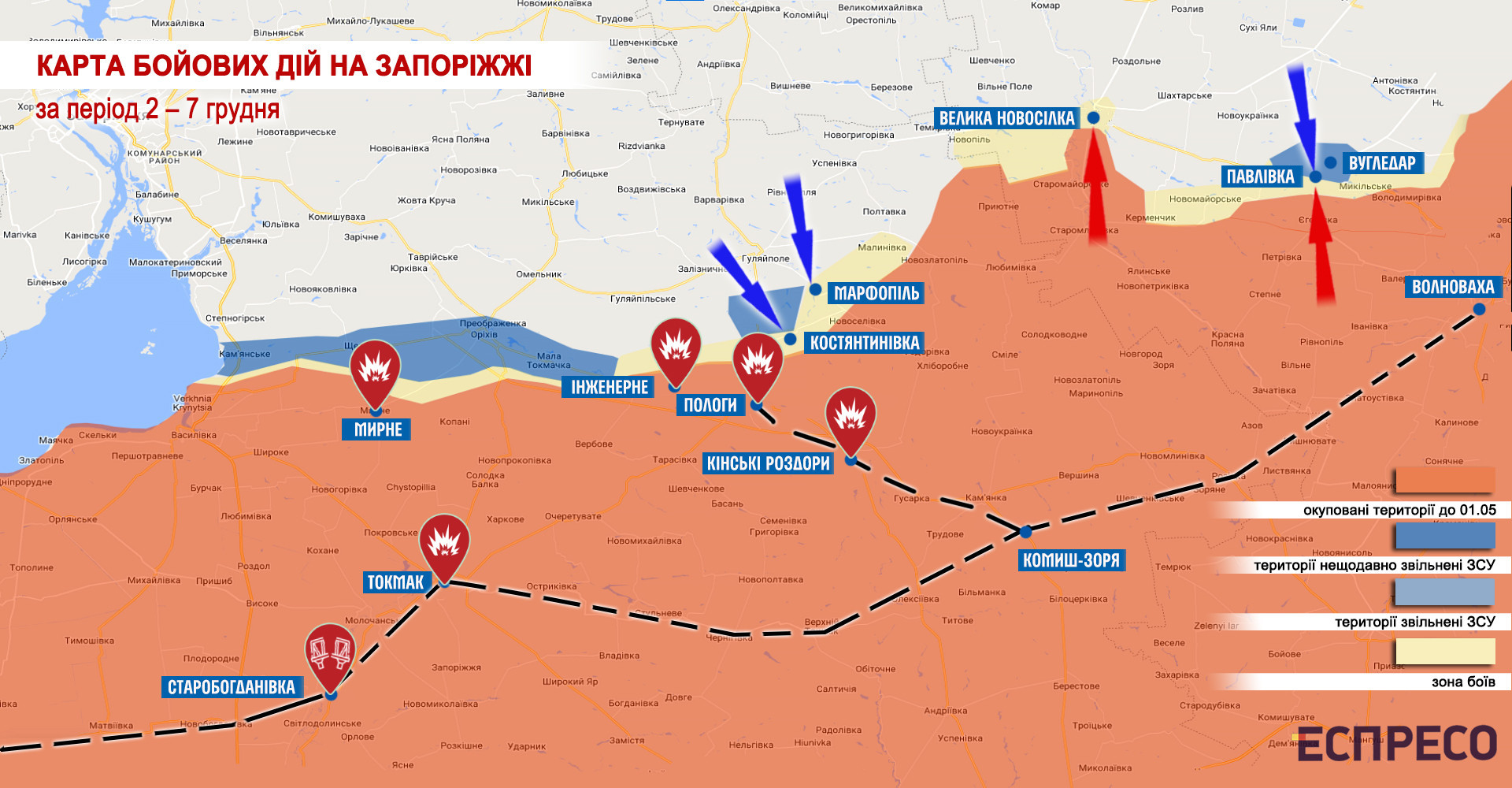 Map of military operations in Zaporizhzhia for the period December 2-7
Pink color – occupied territories until 01.05
Dark blue color – territories recently liberated by the Armed Forces of Ukraine
Light blue color – territories liberated by the Ukrainian Armed Forces
Grey color – battle zone
Meanwhile, the Ukrainian Armed Forces continued their massive shelling of the railway connection Volnovakha-Melitopol. In particular, they destroyed the bridge in Starobohdanivka and hit stations in Kinski Rozdoly, Tokmak and Polohy, where the headquarters of the Russian forces were also destroyed. The Russian forces urgently moved the military hospital to Mariupol.
Also, our army is powerfully firing at enemy concentrations near Polohy, particularly in Inzhenerne, Myrne, Marfopil and Kostiantynivka and, where the Ukrainian Armed Forces tried to break through the protective redoubts of the Russian army.